Melinda Schwakhofer is an American artist and citizen of the Muscogee Nation with Austrian-American ancestry.
She is an internationally recognised artist whose practice encompasses a range of disciplines from textiles to painting, drawing, printmaking, sculpture and photography.
Now based on Dartmoor, Melinda has been involved with the Moretonhampstead-based community arts project, Art Raft since 2016.
Dartmoor Collective's Jon Vernon spoke to Melinda to find out more about the project, and how it benefits the local community.
Firstly, can you tell us how Art Raft first came into being and what the aims of the project are?
Art Raft began as a Pilot Project in 2016. At that time until March 2020 (when the Pandemic occurred) we met in a meeting room at the Moretonhampstead Health Centre. The participants were mainly older socially isolated people and those living with early dementia. After a successful pilot we secured funding to continue on a permanent basis. In fact in 2017 Art Raft was cited as having helped Moretonhampstead Health Centre in achieving an Outstanding CQC rating
Although our participant group has now shifted focus (we now work with people of all ages over 18+ and all abilities) our aim is the same. Art Raft is a safe and supportive space for people to socialise and explore their creativity.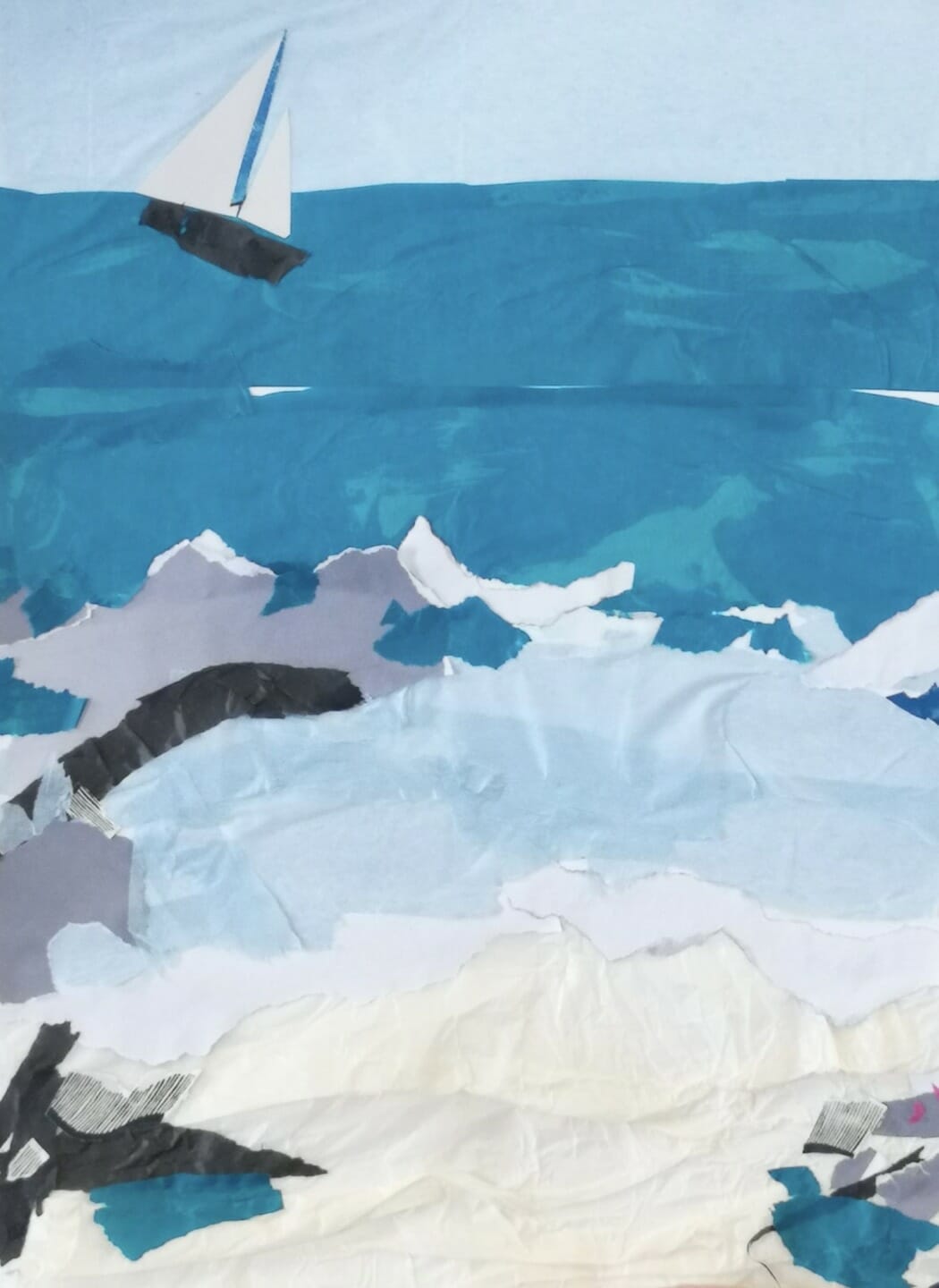 How is Art Raft structured and what happens in a session?
Art Raft provides weekly, 90-minute creative sessions for people (18+) to socialise, nurture their wellbeing, and explore their creativity in a supportive environment. Delivered in 10-week blocks, the sessions are client-led, giving each participant the space to socialise and explore their own creativity at their own pace, in their own way.
Sessions can include drawing, collage, painting, poetry, stories and a range of other creative activities.
We begin with a round robin check-in. It can be as simple as sharing something from our journey in or what we had for breakfast. Other times we share our responses to world events or happenings in our week.
The check-in is followed by a short meditation to ground ourselves and enter the creative space together. Then art materials come out ranging from charcoal, felt tips, clay, acrylic/watercolour paint, pencils. We spend about an hour being creative, then finish with tea and biscuits.
It must be a very rewarding project to be part of. Do you have any particularly memorable examples of where involvement in the project has made a positive impact in the lives of those taking part?
In the early days when carers would drop off their loved ones, they all reported that they really appreciated knowing that their relative had a safe place to enjoy themselves, whilst the carer could have a much-needed break. Sometimes the carer would stay and join in to experience the benefits of being creative and interacting with their loved one in a different way.
We took Art Raft online via Zoom during most of the Pandemic and while it was a challenge to get people connected digitally, it was so good for both the participants and the co-facilitators to continue to meet weekly.

Since September 2021 we have been meeting once again in person in a lovely room at Green Hill Arts Centre.
You're an established international artist, working across multiple disciplines. In what ways has your own artistic practice informed Art Raft?
The fact that I work in many different media, eg drawing painting, textiles allows me to bring a sense of exploration to Art Raft and try out new materials alongside the participants. I bring and encourage a 'beginner's mind' which means coming with a sense of openness, eagerness, and lack of preconceptions. We focus on the moment, embrace uncertainty and enjoy the journey of creativity. In my own artistic practice and when I hold creative space for others I invite people to find their comfort zone. The act of creating can be scary, so centring in this place is important. From here, I encourage gentle risks and experimentation.
Probably the most important concept in my artistic/creative practice is the Japanese aesthetic of wabi–sabi a world view centred on the acceptance of transience and imperfection. The aesthetic is sometimes described as one of beauty that is "imperfect, impermanent, and incomplete".

To let go of the notion that 'mistakes are bad' is so liberating to the creative process.
And has it worked in the opposite direction? Have elements of the work you've achieved with Art Raft informed your own work as an artist?
I am constantly inspired by Art Raft participants. I can be somewhat of a perfectionist in my own art-making practice and to see others try something completely new to them and enjoy the process reignites my sense of creative exploration and discovery.
I also try out new techniques in the sessions which sometimes find their way into my own practice. Like many artists, I'm an individual working alone in my studio. Since running Art Raft I've become familiar with and comfortable running Community Art projects.
You are also a Counselling Psychologist – how has your knowledge and experience in this area influenced what you do with Art Raft?
My interpersonal skills come in very handy, especially listening and reflecting. Art Raft is not an art therapy or a counselling group, but more of a therapeutically held space. It is also more than an 'art class'. The holding of the space allows participants to relax and find some healing and nourishment from the act of conscious creativity.
I would say that my own personal experience of the positive effects of creativity and artmaking are a bigger influence on Art Raft than any of my training or work experience as a counsellor.
What have been the main challenges and barriers you've experienced in setting up Art Raft?
I can't say that there have been many of these. We have always had a place to meet, and Andrea Foxwell has been a supportive mentor to me since the beginning. I've worked alongside some great volunteers, the most recent one being artist Helen Melland.
Actually one challenge is that we are quite well known to the citizens of Moretonhampstead and most people know Art Raft from its early days as a group for vulnerable older people. We are now open to all ages and abilities, so the task at hand is to let people know who we are now.
What has been your favourite artwork produced by the project?
Besides everything that everyone makes in the sessions, Illuminated Memories stands out for me. We spent the spring of 2019 collecting and pressing flowers that participants brought in from their gardens or found in hedgerows. I attached them to heavy weight tracing paper that had been printed with words from poems or sayings. The 20 sheets were joined together in a large grid and displayed in one of the south facing windows of St Andrew's Church during the Flower Festival.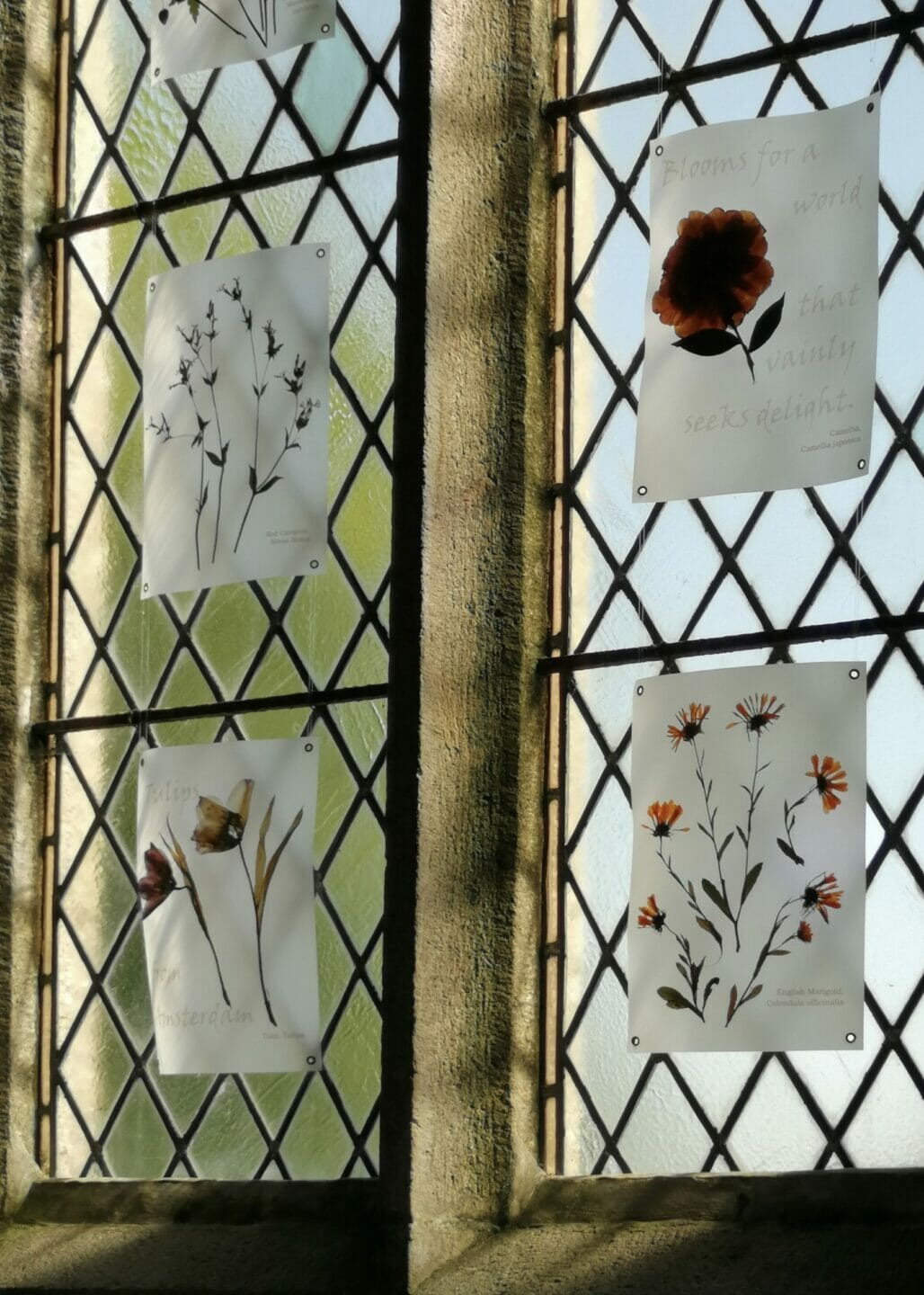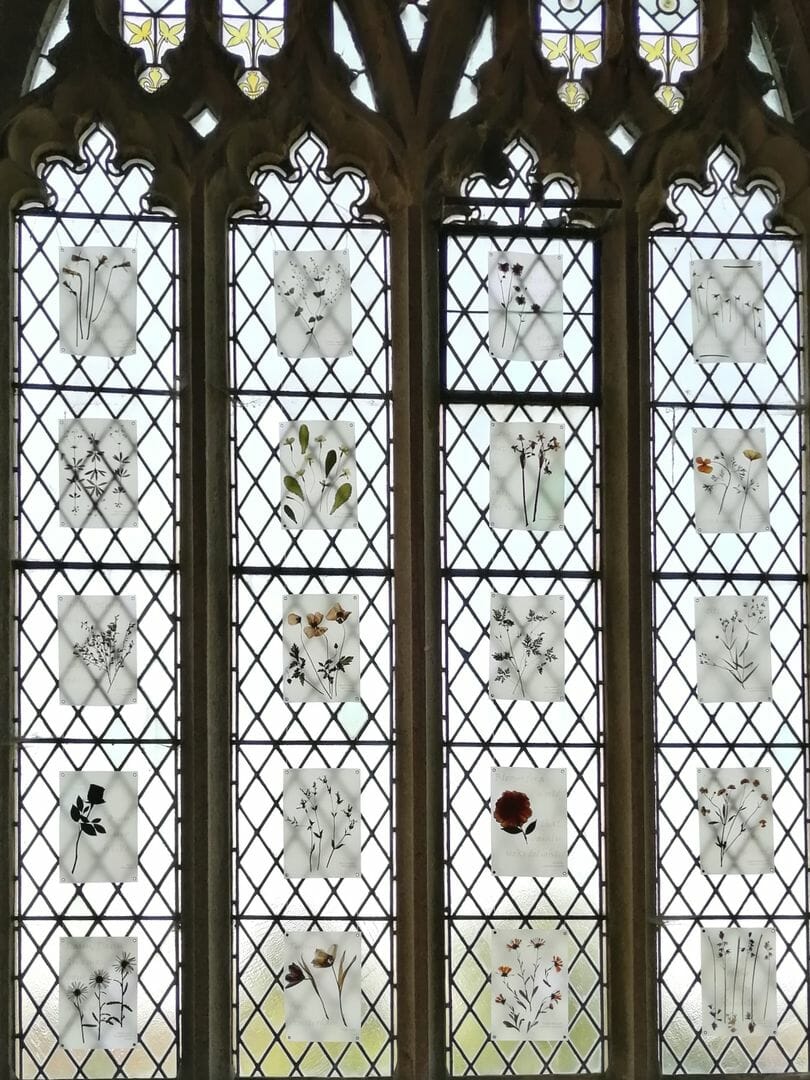 Can you tell us about the latest project – the Moretonhampstead Memory Blanket?
The Moretonhampstead Memory Blanket project began in January 2020. The invitation was for people of all ages to stitch, applique, paint or draw on fabric anything that represents their most treasured memory. It could be a toy, person, house, pet, gadget, mixing bowl…anything that symbolises significant things, places, relationships, work or play in their life.
The completed patches would be attached to a large woollen blanket and displayed around Moretonhampstead.
The intention was to hold a series of community workshops for people to come and make their patches. We made the first 6 patches or so in an Art Raft session, then the Pandemic and subsequent lockdowns happened.
I made individual packs with instructions and materials that people could collect from Green Hill Arts to make their patches. I also assembled a large hamper with fabric, sewing and art supplies which travelled to various community venues, eg the Youth Club and Coppelia House Residential Home.
In August 2021 Moretonhampstead had our first community event since January 2020, Once in a Sentry. I had a table set up with everything needed for people to come and make textile memories. We already had quite a few patches which were pinned to the blanket for inspiration.
In 2022 I held another workshop during the Platinum Jubilee celebrations which yielded several more patches. Finally in October 2022 I held a final workshop at Coppelia House where people made patches in response to the life and death of Queen Elizabeth.
Overall, people from Moretonhampstead and beyond contributed more than 100 memories. It is quite remarkable! I am holding two Stitching Bees in December for people to come and hand stitch the words to a poem around the border of the blanket. The Moretonhampstead Memory Blanket will be showcased at Turning of the Year, an annual live performance event on 7th January 2023.
"Moments are like butterflies, fleeting.
Held with love, moments become memories,
forever lasting."
As a community, Moretonhampstead has developed quite a strong focus on wellbeing through the various projects under the Wellmoor banner, and of course through Art Raft itself. What do you think it is about this little corner of Dartmoor that makes it receptive to these sorts of initiatives?
One of the reasons that I moved to Dartmoor is that it has the second highest concentration of artists, musicians and other creative people in the UK, after London. In addition, we are unique in being a very close-knit community that is also open and welcoming to incomers. I think that this is due in part to being at a crossroads. The people of this town really look after one another. All of these factors combine to make very fertile ground for projects like Art Raft to take root and flourish.
What are the future plans for Art Raft – are any new projects in the pipeline?
Once the Moretonhampstead Memory Blanket is completed, I would like to dream up another community art project which involve our current participants, and also have some workshops out in the community and Coppelia House for others to take part in.
Is there scope for other artists to get involved in the project?
We do invite other people to come to a session with a skill or interest to share. Dave Faulkner of the Moretonhampstead Community Folk Orchestra is a regular visitor. Local world traveller and printmaker Alan Bennet is another visitor who brings tales (and hats) from his travels and has led a printmaking session for us.
How do people get involved if they or a family member want to join Art Raft?
Please get in touch with Art Raft via Green Hill Arts Centre on 01647 440775 or contact@greenhillarts.co.uk.
If we have a spot available, the person is invited to come to a session to see how they like it. We do ask people to commit to the block of sessions. This allows a really nice group dynamic to occur where people get to know one another. Socialising is one of the important aspects of coming to Art Raft.
Are there ways in which people can help to support the project?
ArtRaft was set up by Green Hill Arts, an early player in field of Social Prescribing, to make socially relevant creative work that crosses generations and gets the community involved.
One example of how the community pulls together is the annual Turning of the Year event, which raises funds for ArtRaft. It brings the local people together to open and close the year with all kinds of musical and spoken word performances, as well as a raffle for works donated by local artists and craftspeople. This year's event is in Moretonhampstead Parish Hall on 7th January at 7pm.
We are also always looking for guest artists to come and share a technique or skill.  If you are free on a Tuesday from 10:30 – 12:00 and would like to get involved then please get in touch with Art Raft via Green Hill Arts Centre on 01647 440775.