Since the start of the current pandemic, Dartmoor, like all of the UK's national parks, has seen a significant increase in visitor numbers due to Covid travel restrictions and a renewed interest in exploring and seeking solace in the countryside.
The impact of increased visitor numbers is not distributed equally across the national park however, and amplified social media exposure is now an increasingly significant factor in driving higher footfall at certain 'honeypot' locations.
This is the first of a series of blog posts in which we intend to take a realistic and unfiltered view of some of these locations, the challenges facing them from increased exposure, and how these challenges impact on the Dartmoor landscape.
desire line: noun
variants: desire path

An unplanned route or path (such as one worn into a grassy surface by repeated foot traffic) that is used by pedestrians in preference to or in the absence of a designated alternative (such as a paved pathway)
Dartmoor National Park is a big place, covering 365 square miles with a diversity of landscape and natural history that belies its bleak and inhospitable reputation. Spend even a short amount of time browsing the thousands of social media images of the moor, however, and you cannot fail to notice the frequency with which photos of the same few locations recur.
Take a search of the #Dartmoor hashtag on Instagram and there is one image which will almost certainly appear towards the top of the list.
It is of a dense, low-lit and delicately vignetted tangle of lichen-encrusted oak branches emerging from a misty tumble of mossy granite boulders.
It is no exaggeration to say there are thousands of similar images on Instagram alone, and most of them were taken in the same place.
On the east bank of the West Dart river at an altitude of almost 400 metres, Wistman's Wood is one of the highest areas of oak woodland in Britain. It is one of only three such fragments of Dartmoor's forest past which still remain.
It was designated a Site of Special Scientific Interest in 1964 and is also a National Nature Reserve and Nature Conservation Review area.
Wistman's is a unique and environmentally sensitive site whose small size – less than nine acres in total and barely a few hundred metres across at its widest point – is wildly disproportionate to both its national importance and its profile on social media.
Whilst on a good day it is difficult to take a bad photo in Wistman's Wood, it is extremely difficult to take an original one. However, this does little to diminish its status as Instagram jet-fuel. Consequently it is a location which many would argue has been impacted more than most from increased visitor numbers arising from over-exposure on social media.
Wistman's Wood's relative accessibility is almost certainly a contributing factor to its popularity. Much is made of its remoteness in social media posts, but in fact it is a fairly short walk from the main moorland road at Two Bridges.
The wood's popularity as a Dartmoor landmark predates social media by many decades, and the main walking route into the West Dart valley has long suffered from issues with erosion. Nearby Princetown records over 1200mm of rain annually, almost double that of Plymouth less than 20 miles to the south as the crow flies. This huge amount of water, the topography of the West Dart valley and the amount of foot traffic into it, mean that maintenance of the path is a constant battle with the elements.
I love Wistman's – it's a deeply special place – but having become aware of the fragile state of the route into it, I've consciously reduced my visits over the last couple of years, and we now very rarely feature photos of it on the Dartmoor Collective social media feeds. I was curious however to see at first-hand how the trail into the valley was bearing up over the winter after a busy summer on the moor.
I visited the wood on a comically grim midwinter Dartmoor day with visibility reduced to less than fifty metres. Dark swathes of horizontal rain were driven in from the Atlantic on a blustery south-westerly. Walking up the valley felt like being underwater.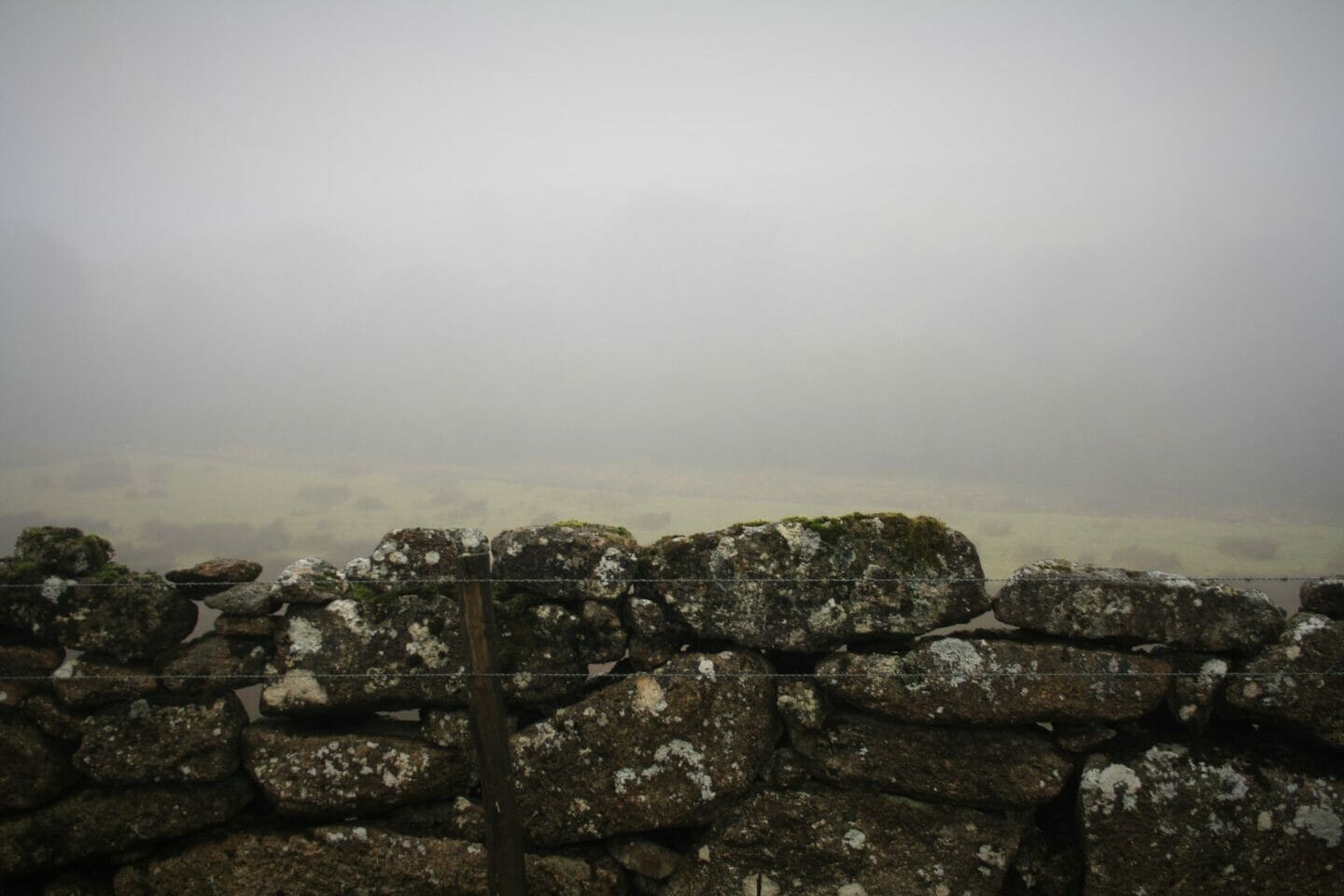 The first section of path north from Two Bridges is good farm track, but even here there is evidence of erosion.
Beyond Crockern the resurfaced track peters out and the route fans into an array of equally muddy desire lines spanning a shallow, boggy valley, all of which converge at a gateway in the dry stone wall on the opposite side.
From this point on, the trail to the wood resolves into a mosaic of exposed granite, grass and mud, interspersed with artificially reinforced sections.
At points, even the improved surfaces have been overwhelmed by the harsh conditions, revealing ragged tendrils of exposed geotextile fibres, like alien pondweed trailing in the clear water running off the hill.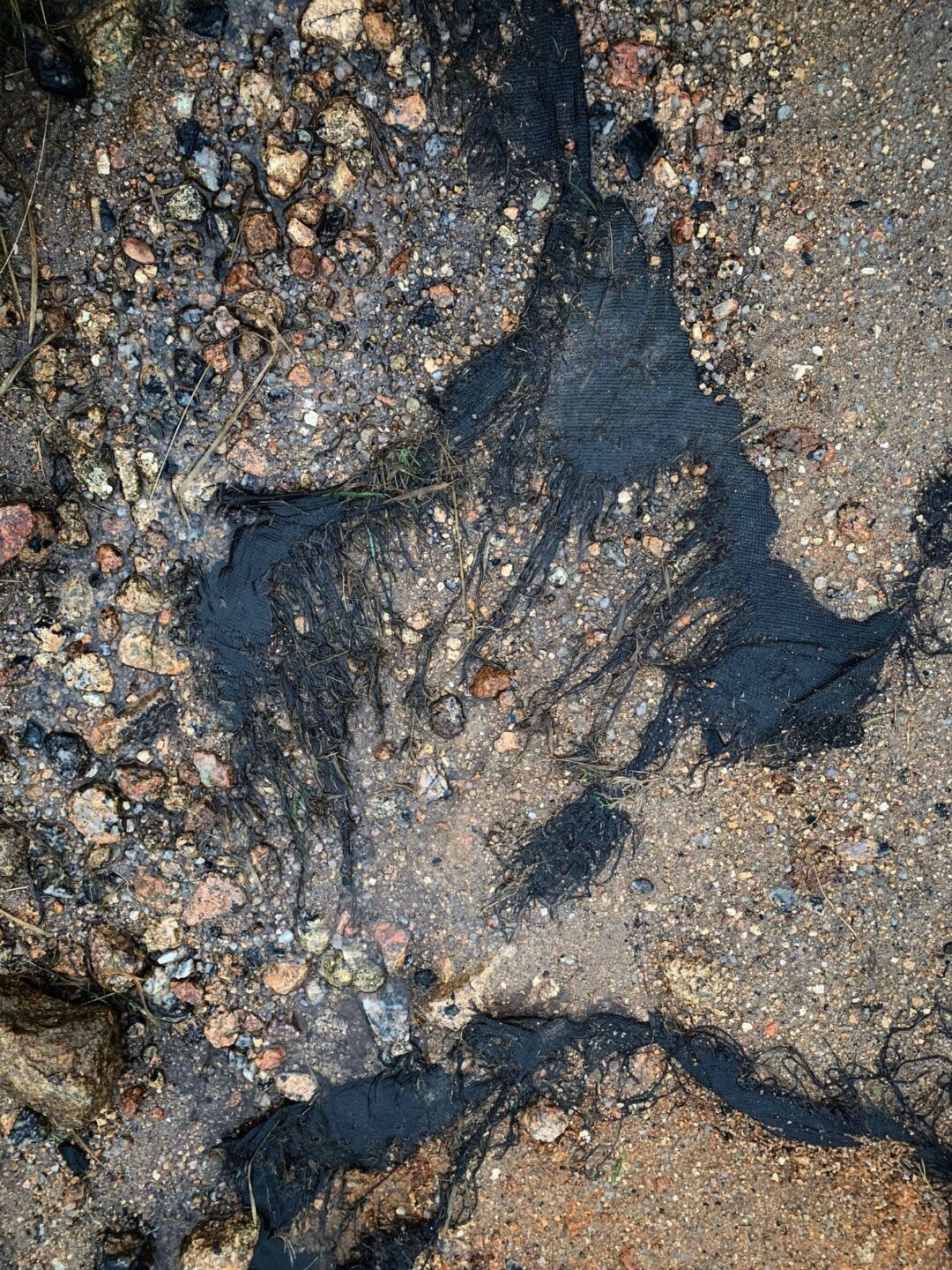 Several sections of the hillside adjoining the path have been undercut by erosion and fallen away, revealing Dartmoor in cross-section: molinia grass roots reaching deep into a rich, dark peat layer, with granite underpinnings.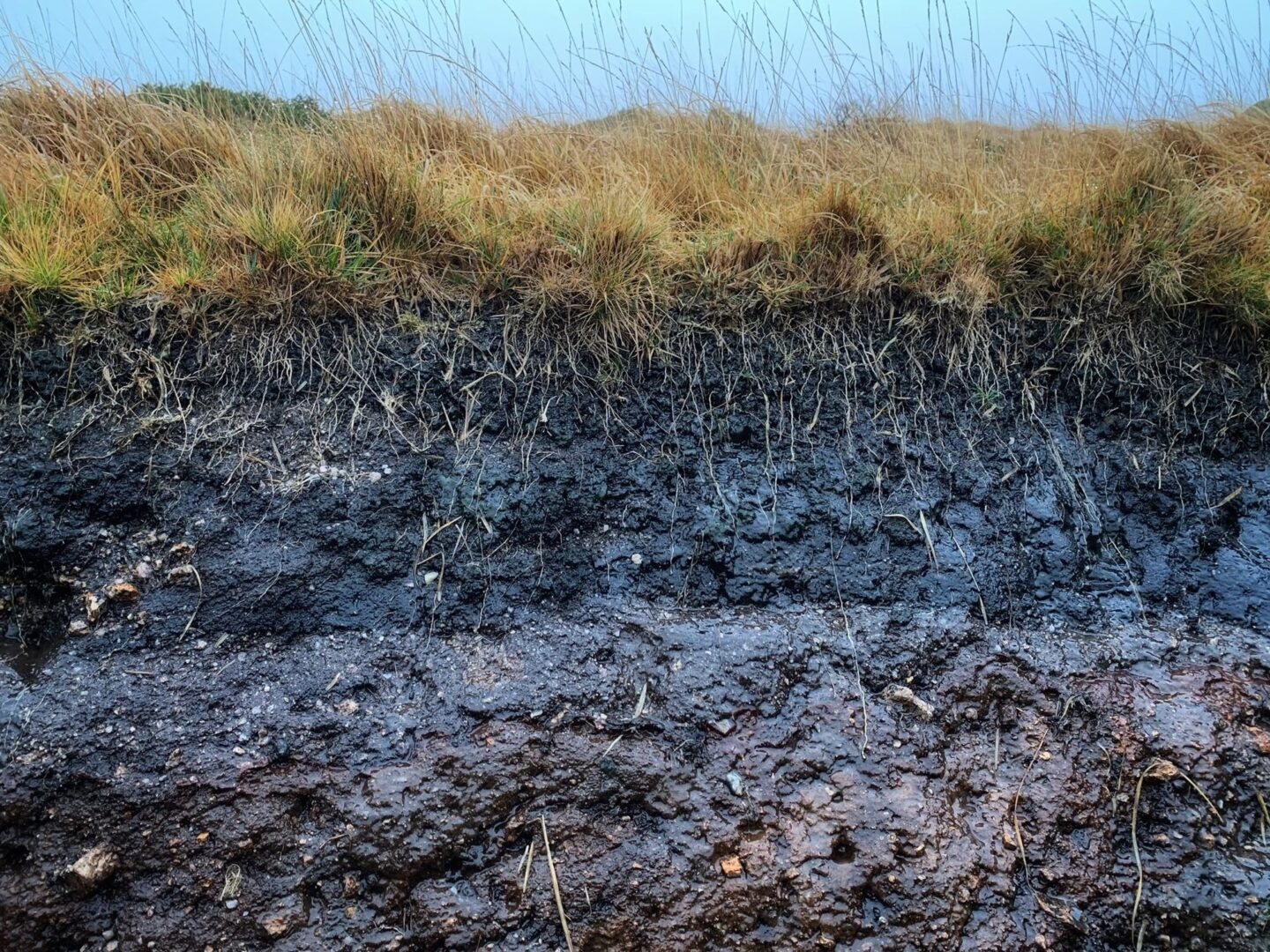 At another point a small clapper bridge – a fortified granite island – is all that remains of a section of path that has been entirely washed out by a small stream.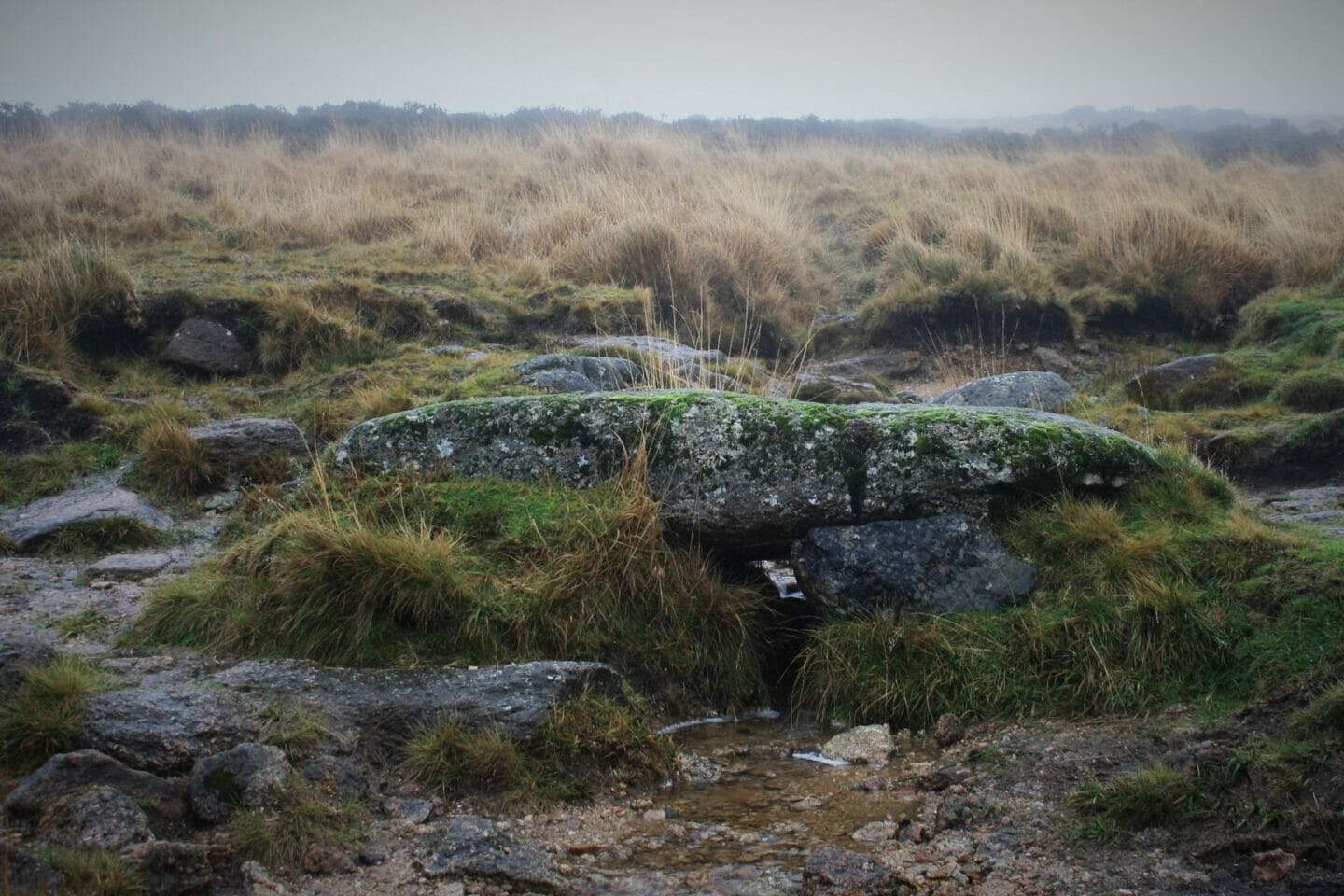 In land management, the ability of a trail to withstand erosion is referred to as the Recreational Carrying Capacity (RCC). This measure takes into account natural factors as diverse as rock type, wind strength and direction, vegetation cover and soil type, together with human factors such as the impact of grazing, and traffic from walkers, cyclists and vehicles.
All of these factors are at play along the route to Wistman's Wood, and in all the years that I've visited the area, I doubt that I've followed the same path twice. It is a fluid route, in every sense, in a state of constant change in response to weather, water and workload.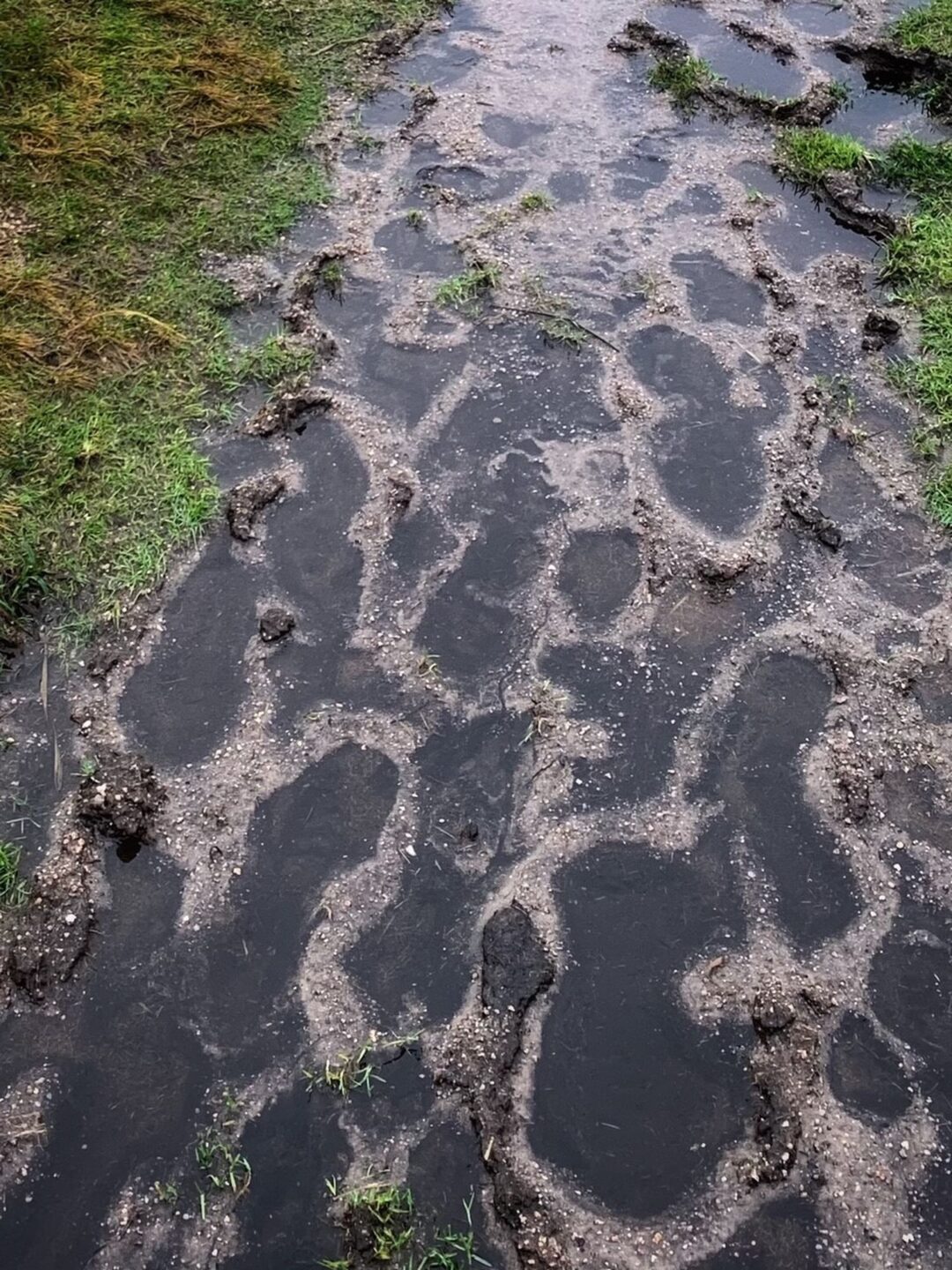 Despite the poor weather, the wood itself was busy on the day that I visited, with a number of families enjoying a damp picnic in the lee of the boulders. Deeper in the tangled wood I could see a couple of photographers with tripods set up, glumly peering at the leaden sky and hoping for a change in the light.
In the dead of winter, the iridescent greens of the moss and lichens stand out even more than usual, and it is easy to see why this place captivates so many. With the exception of a few bits of litter and some clumsy carving of patterns within the mosses on some of the stones, the wood itself appears to an untrained eye to be in good health. This is borne out in the most recent assessments of SSSIs on Dartmoor, which show over 98% of the areas being in "favourable" or "recovering unfavourable" condition.
Time will tell how sustainable this is, however, in the face of the combined pressures of rising visitor numbers and a changing climate.
It may be true that places such as Wistman's Wood are potentially at risk of becoming victims of their own popularity, but managing the delicate balance between maintaining public access and the effects of erosion in our open spaces is a highly complex and nuanced issue for our National Parks.
Do nothing, and paths will further deteriorate, reducing accessibility and potentially irreversibly damaging sensitive natural habitats.
Improve infrastructure, and there is the potential to adversely impact the same "special qualities" which our National Parks seek to protect. We should however also recognise the potential for such changes to become, over time, an established and accepted part of the landscape.
Restrict access, and we potentially further disenfranchise people from nature at a time when open access to natural space is at a premium and already significantly diminished.
There is no easy solution, but there are simple ways we can collectively make a difference:
We can consciously choose not to further expose areas which we know to be environmentally sensitive.
We can embrace the opportunity to explore, and recognise that there are countless other unique places to discover which are more resilient and equally deserving of our attention.
We can tread carefully in these places, and encourage others to do the same.
And perhaps most importantly, we can have an honest and open conversation about the reality and vulnerability of the places that we photograph and be sensitive to the impact of our own actions on them.